Dyson Pure Hot + Cool review price of the 3-in-1 device both heater and fan purifier.

Dyson Pure Hot + Cool review price: purifier + heater + fan
Dyson has just announced the new generation of its Dyson Pure line. Multifunctional products that can provide heating, cooling with ventilation and air purification in a room. The most complete version is the Pure Hot + Cool, intended to keep your health home warm in winter, cool in summer and to purify indoor air in all seasons. Completed by the Pure Cool which refreshes and purifies. All Dyson Pure use the smartphone application to control themselves remotely and become a new smart health smart health connected object for housing.
Dyson Pure Hot + Cool Design and Features
Let's start with this resolutely modern look for which Dyson products are known. Here, we are dealing with a product that we are proud to show, but above all its design really allows to improve the performance for each feature.
In addition, it remains silent for this type of product (75% less noisy). However, previous smooth versions were very easy to clean. The addition of the more aesthetically elegant grid base is however trickier to maintain, you will need theportable vacuum cleaner Dyson Cyclone. 😉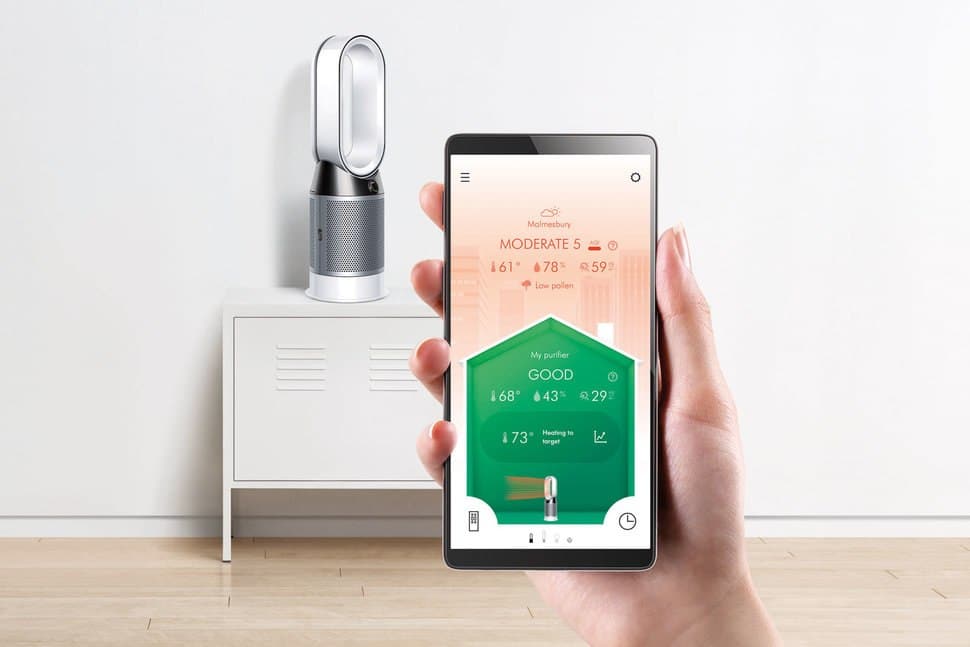 Depending on your decoration, you can choose from two colors (white or white / silver), as well as two finishes for use on the floor or on a table.
Dyson Pure come with a remote control and are compatible with'free Dyson Link smartphone app which remotely allows:
View real-time indoor and outdoor air quality information
Schedule your device to be active at times that suit you
View historical air quality information and learn more about the air in your health home
Remotely control airflow speed, mode, timer, oscillation and other settings
Receive software updates and view user guides
A new LCD screen that tells you everything
The Dyson Pure Hot + Cool adds a small LCD screen located at the very top of the base. It tells you when your air is polluted and how your air purifier works to remove them, along with a ton of other information. It's easy to read, although it does take a bit of time to learn what all of the different numbers and symbols used mean.
Analysis of indoor air pollution
If you are wondering how chemicals get into your health home. Dyson explains that there are several harmful sources like wood in its agglomerated form (a material made by bonding wood chips with heat) that can release formaldehyde. Pollen, the source of many allergic reactions, or urban pollution can simply enter your health home through open windows. Even though one of the public health instructions is to ventilate the health home every day to renew the air. It is therefore both necessary to change the air, but also to purify it.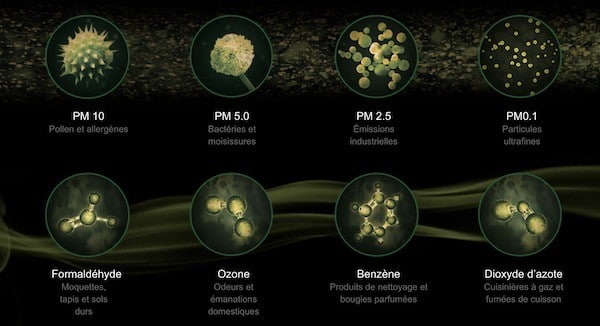 For purify indoor air, the Dyson Pure Hot + Cool is particularly well equipped:
The machine can detect airborne particles and transmit the information in real time to the new LCD screen as well as the free Dyson Link app.
A sensor detects the amount of VOCs (volatile organic compounds). It uses lasers to identify fine particles in the air, as well as sensors that monitoring volatile organic compounds like nitrogen dioxide and formaldehyde, which can cause tearing, burning sensations in the nose and throat. , cough, nausea and skin irritation.
In addition to retaining fine and harmful particles, it also captures health home odors.
The Pure Cool purifier is now capable of removing 99.97% of microscopic allergens and pollutants as small as 0.3 microns. The machine is equipped with a two-layer filter (a HEPA filter in the outer layer and a carbon filter in the interior) which should be replaced once a year when used 12 hours a day.
Maintain the ideal temperature
Another sensor measures relative humidity and temperature. The thermostat keeps your room at the desired temperature (set temperature).
Once the temperature is reached, the Dyson Pure Hot + Cool will go into standby and resume if the temperature drops. Dyson engineers tested 80 different versions of the heating element to make sure they had the most suitable.
Note that if the heating elements are very powerful, they never exceed 200 ° C. What is below the point of combustion of dust, no risk of fire or that burning smell that you feel with some devices.
Efficiently refresh a room
The fan function uses Dyson's "AirMultiplier" technology to cool your room. She can produce up to 290 liters of purified air per second (against 200 on the previous model).

For example a room of 4 x 4 m, with a height of 2.4 m, has an air volume of 38,400 liters (4x4x2.5 × 1000). In theory, the total filtration of "a 16 m² room can therefore be carried out in less than 2 minutes 15 seconds!

Hot and cold diffusion at 350 °
Another great thing about the device is that it can act at 350 degrees to push air into every corner of the room. The choice of its location will determine what angle of diffusion you wish to apply.
Connection and connectivity
The new Dyson Pure Hot + Cool simply plugs into a standard outlet. You can connect your Dyson to the wifi network, but only at 2.4 GHz.
It can be controlled as desired:
The application is regularly improved (useful to make updates, the last at the time of writing the article is that of October 25, 2018). Note that air quality data is not available for 30 minutes when switching from heating to cooling mode.
The only real regret is that Dyson has not yet made its Dyson Lync app compatible with Apple's main Amazon Alexa, Google Assistant, or Siri voice assistants.
Price and availability Dyson Pure Hot + Cool and Pure Cool 2018
Coming Soon Pure Hot + Cool 2018 Models
The new Pure Cool 2018 models (cold + purifier)
The new Dyson Pure Cool 2018, to be placed on the floor with 2 functions which refreshes and purifies the air is already available at a price of 598 € (Amazon Prime eligible delivery)
The Dyson Pure Cool tabletop version is sold 539 €
Tips: previous 2017 models to watch for price cuts:
Meanwhile the Dyson Pure Hot + Cool is available in the UK at Dyson stores for £ 549.99 – not cheap, but if you're worried about indoor air pollution, the investment may be worth it. hardly.
Dyson Pure Hot + Cool review
Dyson Pure Hot + Cool 3-in-1 air purifier


Design & usability –

9.6 / 10


Features –

10/10


Connectivity & compatibility –

7.1 / 10


Price quality –

6.5 / 10
8.3 / 10
Dyson Pure Hot + Cool review
Of course, you have to pay a price, as with all Dyson products. But let's face it, quality, power and efficiency are there. So if you are looking for a device for actually improve your interior comfort, the Dyson Pure Hot + Cool is a great investment.
No more too cold or too hot days, and permanently improved air quality and not just for people with allergies or asthma.
Mr. Dyson add us the voice command and it will be perfect (with promotions too).
AB SMART HEALTH REVIEW